With both of the Sight Knobs taken out, the Aperture is easily removed.
[NOTE: Many individuals like to remove the Sight Base and Aperture as a whole instead of in pieces the way we do. They save a couple of steps by simply pulling the Aperture half way out and pushing it up from the bottom till it 'pops' the Cover Spring and then remove all of the pieces at one time.]
To remove the Aperture simply grip it near the top and neatly 'roll' it up and out of its channel in the Rear Sight Base.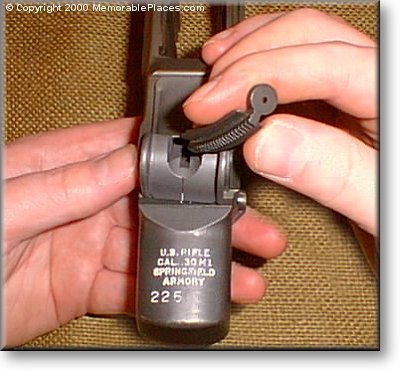 When the Rear Sight Aperture has been removed the next step is to loosen the Cover Spring so that it and the Rear Sight Base and be removed.
Disengage the spring by simply lifting the Rear Sight Base as high as it will go and then gently taking a small flat bladed screwdriver and pushing in and up on the Cover Spring as shown below.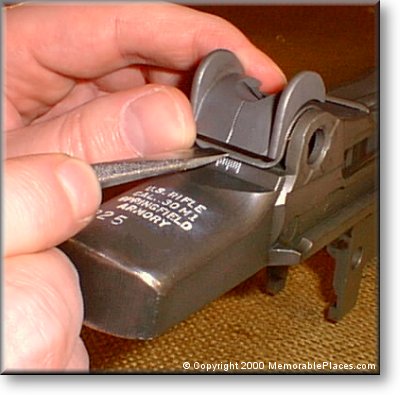 Note: Wrap the screwdriver blade in a thin piece of rubber or in a gun cleaning patch so as to avoid scratching the Cover Spring.
Once the Cover Spring is loose remove the Rear Sight Base.