After Field Stripping the M1 Garand Rifle one of the major assemblies that you are left with contains all of the parts needed to operate the action and feed the cartridges. This segment will show how to detail strip this part of the firearm.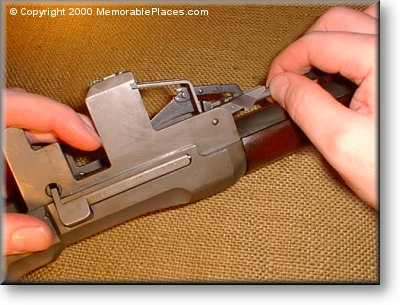 Detail stripping the M1 Garand's Action and Feed Assembly is a straight forward process. However, ALWAYS wear safety glasses when working on any part of the rifle as springs do have a tendency to ruin eyesight should they go flying.
Most of the things that need doing can be accomplished with a standard GI Combo Tool.
While reading this you may want to refer to the Nomenclature Pages if any of the part names don't ring a bell.
The first step in this disassembly process is to relieve the tension in the action by disconnecting the Operating Operating Rod Spring.