The trick to this step is to compress the hammer spring while at the same time lining up the two trigger guard housing holes with the hole in both ears of the hammer spring housing and the hammer itself. It can be a little tricky.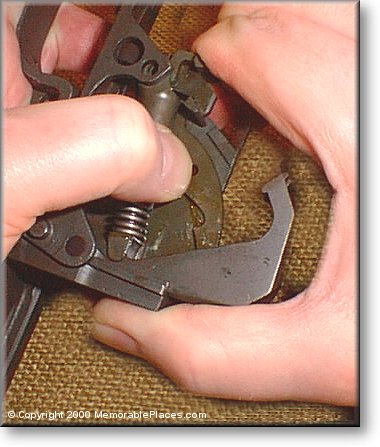 The best way we have found to do this is to make sure the hammer stays in and upright position while making a 'C' shape with the right hand over and around the top of the assembly as a whole. This allows you to compress the spring and roughly align parts with your right hand and allows you to make little adjustments with your left hand.
When all of the holes are aligned drop in the trigger pin.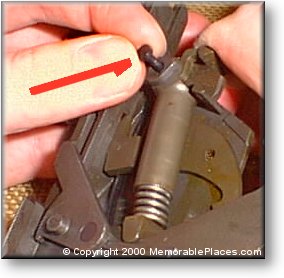 Usually it takes a little fighting to get the trigger pin in place but if you work from left to right centering each piece it usually goes pretty well.
The final step in the process of putting the trigger group together is to functionally test its operation to assure that I have it all back together correctly.
Final Trigger Group Re-Assembly Page