After you have cleaned the M1 Garand, you will then naturally want to reassemble it. The following pages delineate the steps we take to put the rifle back together after field stripping.
Reassembling the M1 Rifle after field stripping is simple. However, always wear safety glasses when working on any part of the rifle as the unexpected can always happen.
No tools are needed for the process of reassembling a field stripped M1 Rifle.
While reading this section you may want to refer to the Nomenclature Pages if any of the part names don't ring a bell.
The first step of re-assembly is to lay out all the parts that you will need. In this case it this consists of the Receiver and it's attached parts, The Trigger Group, and the Stock.
The first step in putting the rifle back together is to mate the Stock to the Receiver Assembly.
Do this by holding the Receiver by the Front Handguard and gently slipping the Ferrule end of the Stock into the rear lower portion of the Lower Band as shown below.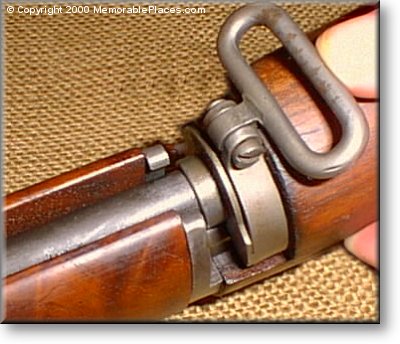 Rotate the stock down onto the 'legs' of the Receiver using an arcing movement.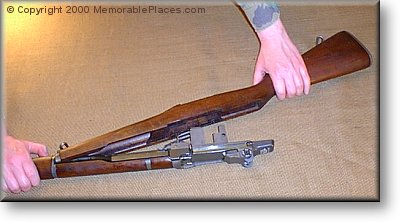 You are now ready to place the trigger group.